'The City Love Guy'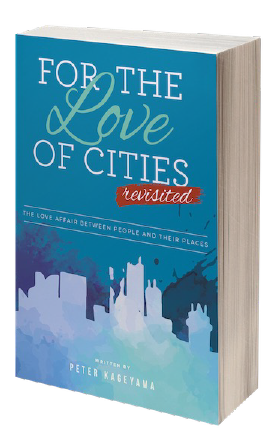 Peter Kageyama is the author of For the Love of Cities: The Love Affair Between People and Their Places, and the follow-ups, Love Where You Live: Creating Emotionally Engaging Places and The Emotional Infrastructure of Places. In 2021, he released For the Love of Cities REVISITED, a revised and updated version of the award-winning book. Peter was a Senior Fellow with the Alliance for Innovation, a national network of city leaders, and a special advisor to America In Bloom.
Planetizen recognized For the Love of Cities as a Top 10 Book in 2012 in urban planning, design and development. He is the former President of Creative Tampa Bay, a grassroots community change organization and the co-founder of the Creative Cities Summit, an interdisciplinary conference that brings citizens and practitioners together around the big idea of 'the city.'
He is an internationally sought-after community development consultant and grassroots engagement strategist who speaks all over the world about bottom-up community development and the amazing people who are making change happen.
To learn more about the other side of Peter's work, visit www.fortheloveofcities.com